Spring Street Inn
Innkeeper(s): August Ericson & Family
The Main House - Grand Magnolia
The Grand Magnolia is considered the master bedroom and is a spacious bedroom facing the Hot Springs Mountain.
The luxurious private bathroom has a large whirlpool tub for two & separate shower. Includes; dimmable lights, terry cloth robes, bath salts & bubbles, CD player, & an endless supply of hot water.
You have private access to the balcony porch that is concealed by the two largest Magnolia Trees in Hot Springs Arkansas. Lounge chairs provided for sunbathing or relaxing under the stars.
The room is adorned with a queen size four-poster Mahogany bed. Eastlake settee and rocker. Walnut and marble-topped desk with mirror.
The Bath includes a large Jacuzzi, shower, and an antique cabinet with sink below an ornate mirror. Bath pillows and salts, dimmer and mood lights, candles, and CD player make it very relaxing and romantic.
An original stained glass door opens out from the bathroom onto a private balcony/deck with sitting area providing a wonderful view of the National Forest and our two majestic Grandiflora Magnolia Trees (late spring blossoms).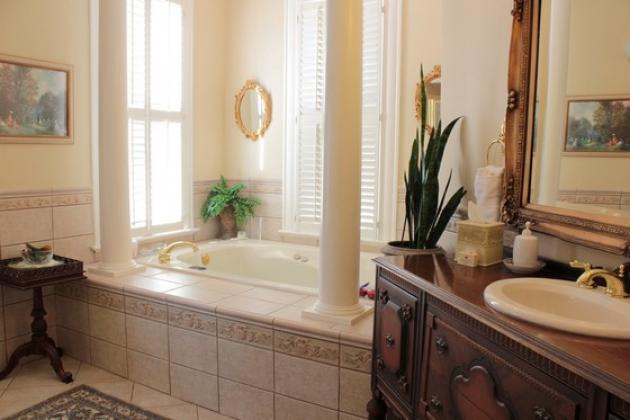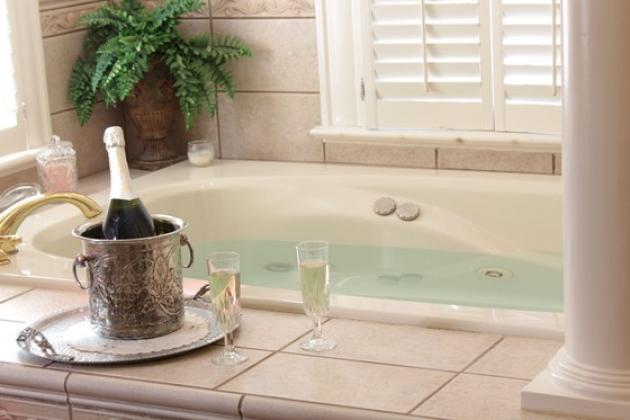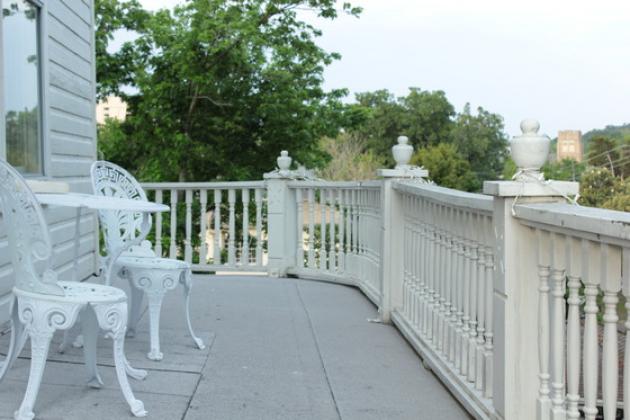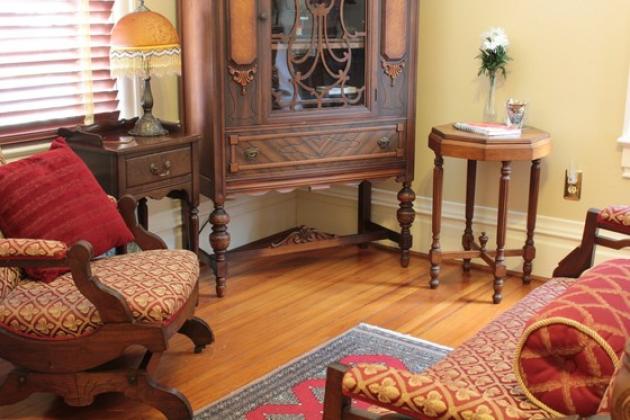 CHECK AVAILABILITY
DVD Player
Eco-Friendly Inns
Historic Inns
Internet/Wifi
Mountains
The Main House - Tower Room
Named for the the room's view of the Hot Springs Mountain Tower standing 216 feet atop Hot Springs Mountain. A magnificent bedroom featuring a sun porch style private bathroom with French glass windows, large whirlpool tub for two and separate seated shower. Stain glass light fixtures, antique furnishings and handsome mahogany barley twist bed complete the room.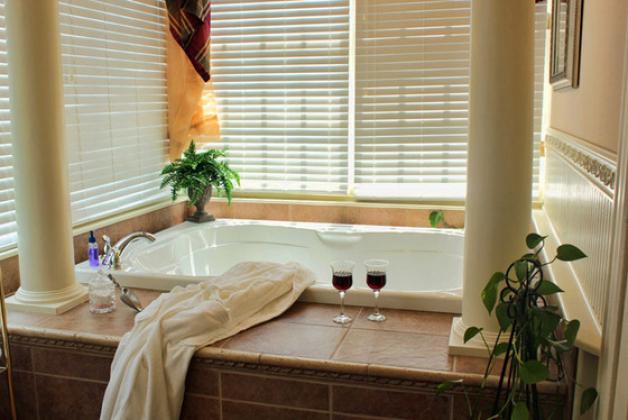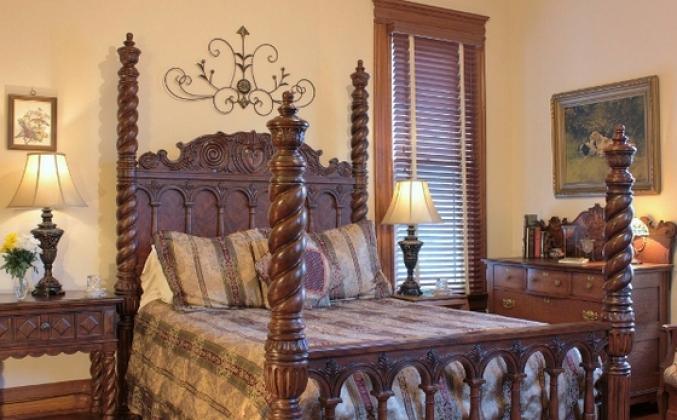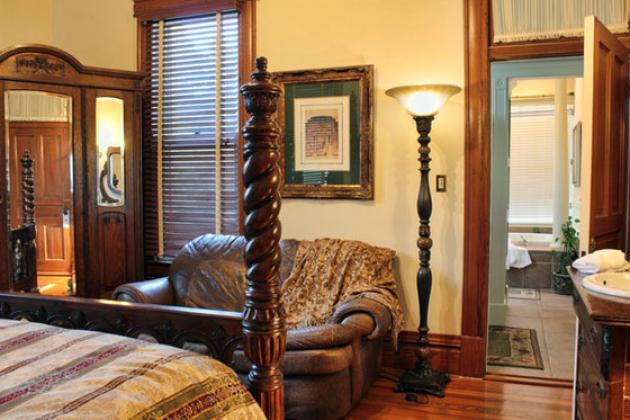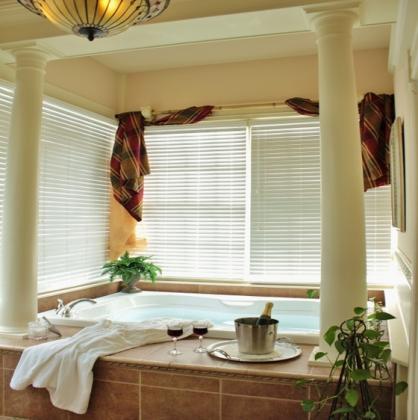 CHECK AVAILABILITY
The Main House - Fountain & Jockey Room
Features a Queen size Louis XIV bedroom set with matching mirrored Armoire. The Bath includes a medium sized whirlpool tub with shower surround. The Fountain room can combine with the Jockey room with additional full size bed. Great for a third person. Hear the faint sounds of the water fountain and lily pond outside. We keep a variety of fish and plants with summer blooms. An occasional winter freeze transforms the fountain into a beautiful ice sculpture.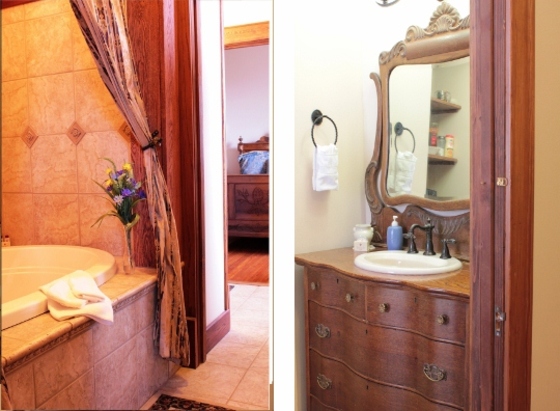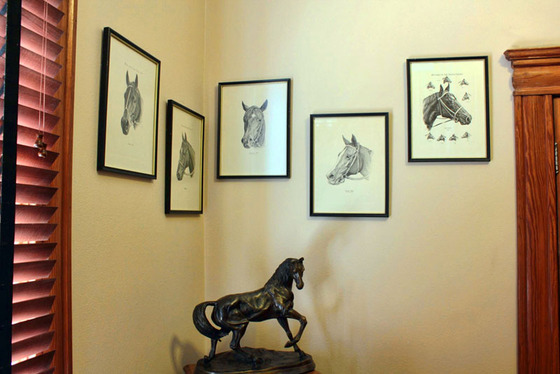 CHECK AVAILABILITY
Jockey Room
The Jockey Room is a spare bedroom that goes along with the Fountain Room. It works well for guest traveling together who need two separate bedrooms but share a pass through bathroom. It can not be reserved by itself.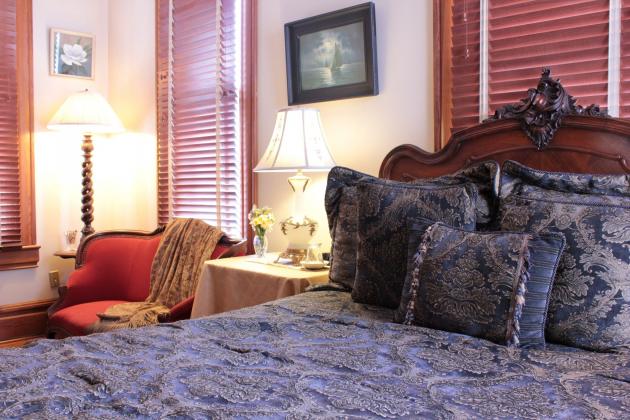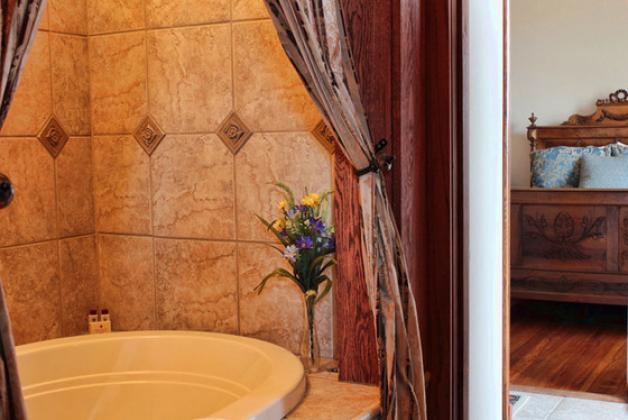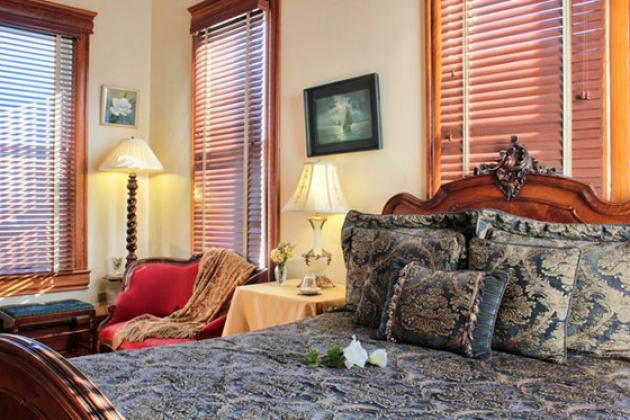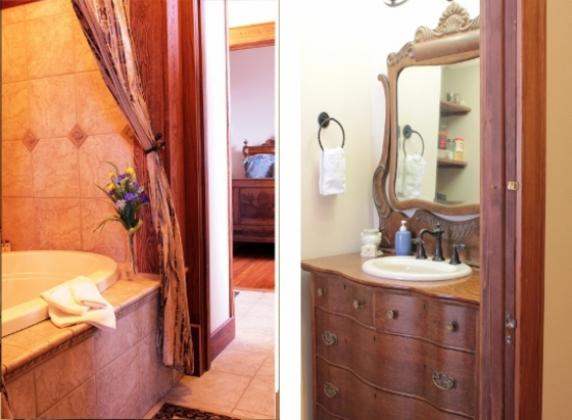 CHECK AVAILABILITY
Carriage House - Your Own Private Oasis!
The Carriage House is adjacent to the Main House with a 1st floor or 2nd floor to choose from, each with separate entrances and completely private. Both floors have individual private patios, kitchenette, and 750 sqft of living space.
If needed, for larger families, you can reserve the entire house and combine the guestrooms using a private downstairs pass-through foyer area leading from both kitchens.
Each Guestroom Features: Private Entrance, Patio & Kitchenette. Large Whirlpool tub for two, Dual sided Fireplace with viewing from Bedroom and Whirlpool tub. Our Gourmet Breakfast is delivered.
Enjoy your gourmet Breakfast outside on your Patio or in your room by the fireplace.
Quality design features include; Brazilian cherry wood floors, granite & marble counter tops & Tile. Dual sided Gas log fireplace can be viewed from the bedroom and the whirlpool tub (operational mid Oct thru March). The large Whirlpool tubs is perfect for two side by side with handheld & standup shower. Bath salts & bubbles, Candles, dimmer lights, CD music players, and a selection of music & DVDs included.
First Floor: Can accommodate 2 to 4 guest with in-room sleeper sofa.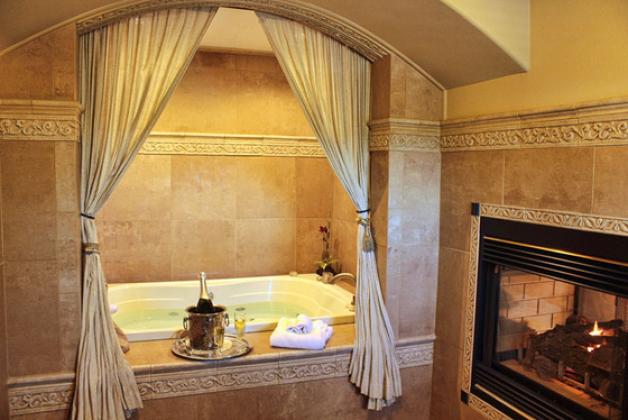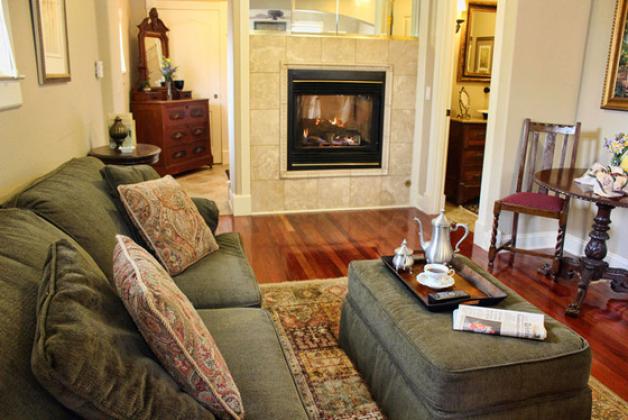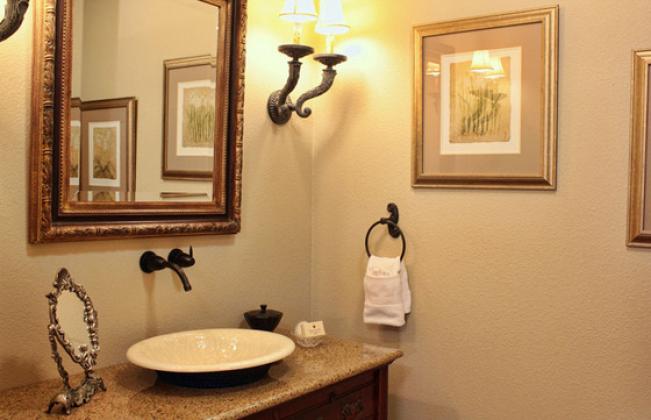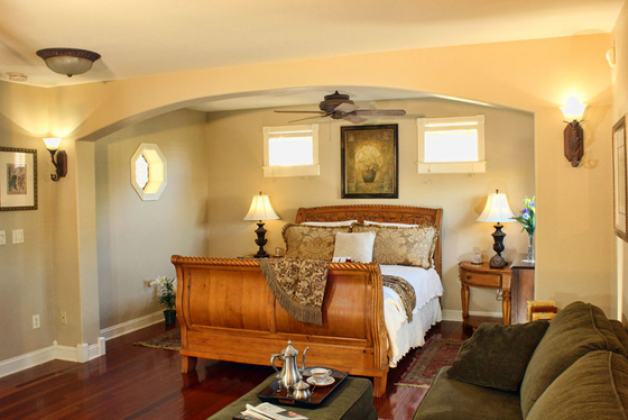 Second Floor: Can accommodate 2-3 guest with in-room side daybed.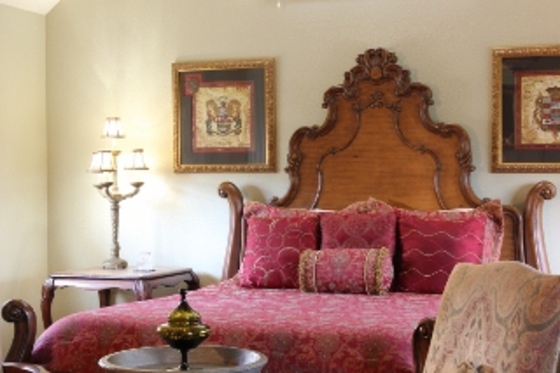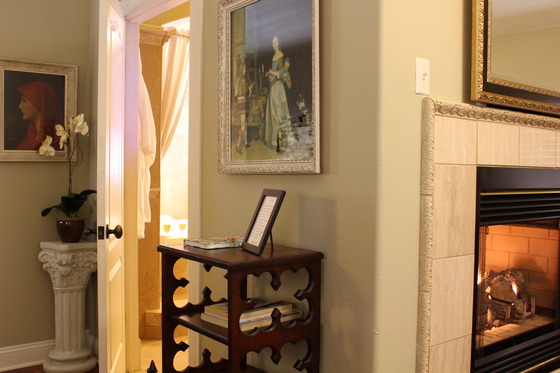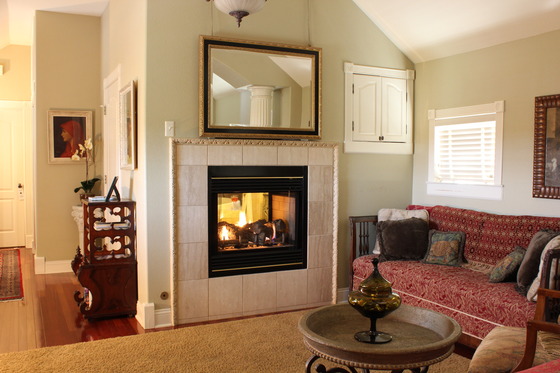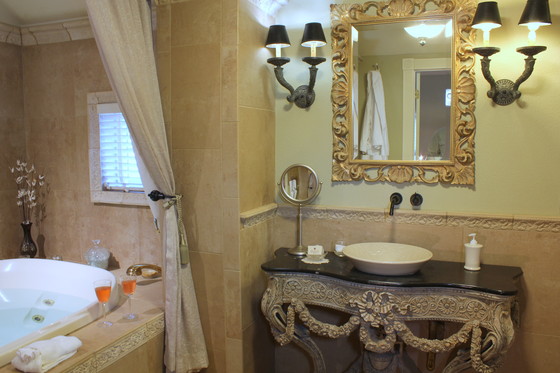 CHECK AVAILABILITY
Rates & Policies

Reservation Policies

A Major Credit Card is required for reservations.
We accept Visa, Mastercard, American Express, Discover & Travelers checks. If paying with cash, we will reverse the charges upon arrival.

Once your reservations are confirmed, we may hold a $30 non-refundable deposit with the remaining balance charged 10 days prior to your arrival date (which is also our cancellation cut off time).

All Cancellations and Changes to Reservations must be made 10 days before the arrival date for the reservation amount to be refunded - less a $30 handling fee per room. If the required cancellation notice is not met, the full amount of the stay will be charged.

Example; if your arrival is on Friday you would need to contact us the previous week by Tuesday midnight to cancel the reservations.

Rescheduling, early departures, no-shows due to weather (unless roads leading into Hot Springs are closed by the county Highway department ) are the same as a cancellation. To help protect against unforeseen changes in your travel plans, please consider investing in trip insurance. http://www.travelinsurancereview.net/

Our rates range from $120 - $240 night depending on the month and day. Although our rates will fluctuate throughout the year, the rate is guaranteed at the actual time of your reservation request.

Weekdays - (Sun/Thur.) no minimum stay requirement. You can stay as many nights as you need.

Weekends - two night minimum stay requirement. This can be for (Thurs/Fri. or Fri/Sat. or Sat/Sun.)

Some weekends we have one night openings - Check One Night Openings.

Rates are based on single or double occupancy. For more than a double occupancy you will need to call us for approval and we will let you know our accommodations and additional charges.