Balloon fest in Mancos Sept. 23-25
Countdown to Lift Off -
Mancos Valley - Mesa Verde Country Balloon Festival
Takes Flight September 23 - 25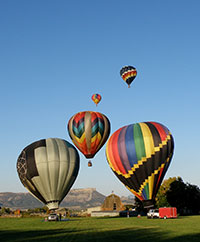 Take your fun to new heights this month in Mesa Verde Country. On Sept23 - 25 we'll be launching the 7th Annual Mancos Valley - Mesa Verde Country Balloon & Art Festival. The high desert landscape of Colorado's Four Corners region is the backdrop for a weekend of art and awe-inspiring sights. Balloonists paint the sky every color of the rainbow at dawn, while on terra firma musicians and fine artists showcase and share their talents. More colorful than a space-shuttle launch, more climactic than New Year's Eve on Times Square; this is one countdown you won't want to miss:
21 - Balloons, including many special shapes
3 - Spectacular Mass Ascensions
2 - Magical Balloon Glows
1 - Breathtaking Fall Weekend
0 - Dollars -- It's Free!
If you've never witnessed a mass ascension, you're in for a treat. Three mass ascensions are scheduled (weather permitting) at 7:00 AM each day. With the help of their crews, balloon pilots lift off from one of two staging areas, filling the early morning sky with a kaleidoscope of color. Have your camera ready for this can't miss photo op.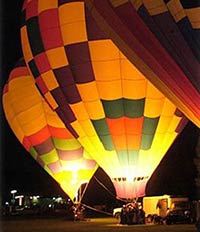 Keep that camera handy for the balloon glows that take place on Friday and Sunday nights at 7:15 PM. As the burner on the balloons is fired they "glow" like giant lanterns. The effect is both spectacular and magical. Always a favorite, this event never fails to charm and enchant kids of all ages.
But to really let your spirits soar, take a hot air balloon ride navigated by an experienced pilot. Rides are available each morning during the mass ascensions (weather permitting). As the ground sinks away, the vistas of Mesa Verde Country unfold including views of Mesa Verde National Park and the La Plata Mountains. Tethered balloon rides are also available.