Frisco Inn on Galena
Innkeeper(s): Bruce Knoepfel
The King Tower Room
This exceptional room beautifully incorporates the Inn's distinctive clock tower into the room's expansive interior. The 4 post king bed is centered perfectly under the tower, and the 360 degree views make this a one of a kind lodging experience. The room is equipped with 32 inch flat panel TV, Wi-Fi, and telephone.
CHECK AVAILABILITY
The Family Suite
This two bedroom suite, tucked away on its own floor, is perfect for families. One bedroom has a queen bed, and the second bedroom has two double beds. Two portable beds may be added for a total suite capacity of eight guests. The suite is equipped with two televisions, Wi-Fi, and telephone.
CHECK AVAILABILITY
King Rooms
In addition to the King Tower room, we have three King Rooms, one of which has a private patio/deck attached. All are equipped with 32 inch flat panel TV, Wi-Fi, and telephone.
CHECK AVAILABILITY
Queen Rooms
We have seven Queen Rooms, two of which have a private patio/deck attached. A portable bed can be added to three of the Queen Rooms. All are equipped with 32 inch flat panel TV, Wi-Fi, and telephone.
CHECK AVAILABILITY
Rooms with Two Double Beds
We have three rooms equipped with two double beds. Each is equipped with 32 inch flat panel TV, Wi-Fi, and telephone.
CHECK AVAILABILITY
The Cottage-Pet Friendly
Our Cottage is located on the property adjacent to our sister Inn, the Frisco Lodge. The Cottage is 2 1/2 blocks directly east of the Frisco Inn on Galena. It is a beautiful one bedroom chalet with a Great Room that looks out on Mount Royal and the Ten Mile Range The cottage has a full kitchen, living and dining room. There is one double bed and one sofa sleeper bed. It has a flat screen TV in the Great Room, a TV in the bedroom, and a TV in the living room. Wi-Fi is available and there is a great yard for this pet-friendly chalet if your family dog accompanies you. There is one dog permitted for an additional per night fee; ample parking is in the private driveway in front of the cottage. Maximum occupancy 4. The cottage includes the Frisco Lodge, our sister Inn's, food service.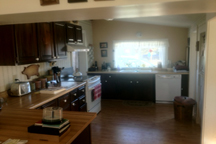 CHECK AVAILABILITY
The High Country Loft
Our High Country Loft, just 2 1/2 blocks from the Inn, is an up-scale apartment located in the Ten Mile Creek complex. It features a gourmet kitchen, wide screen flat panel TV, washer/dryer, Wi-Fi, and the use of the facility's swimming pool, sauna, and steam room. A fireplace in the living room and a balcony with views of the Continental Divide range provide the mountain ambiance sure to make your stay memorable. It can be rented as a 1, 2, or 3 bedroom unit. The Inn's food service is included with Loft rentals and is served at the Frisco Inn on Galena.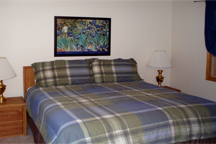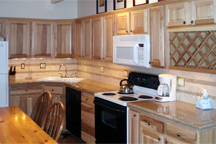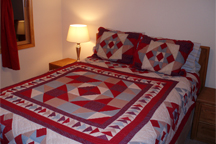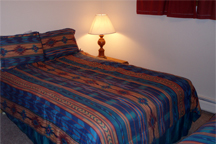 CHECK AVAILABILITY
Policies

Our check-in time is between 3 PM (4 PM for the Loft) and 10:30 PM. If you will arrive after 10:00 PM please call to make arrangements for your late arrival. We have a late arrival box on the front desk where your key will be left for you.

Check-out time is 11:00 AM. While we do everything to guarantee your requested room assignment (if you requested a specific room), we can not guarantee room assignments until check-in.

We require the first two nights of your reservation to be paid at the time of reservation (Special groups, Loft, and extended stays may require a larger deposit). For one or two night reservations, the full amount is due at the time of reservation.

Our policy is that your balance is due, and will be payable on, your scheduled date of arrival. You are responsible for all nights of your reservation. No refund for unused nights will be given unless we are rebooked. If you cancel before 30 days from your scheduled arrival, a full refund minus a $50.00 handling fee ($25.00 in off-season periods) will be refunded. If you cancel on or after, 30 days from your scheduled arrival no refund will be made unless we are rebooked for the full length of your stay and a $50.00 handling fee ($25.00 in off-season periods) will apply.

No refunds are made for changes on the day of check-in or after check-in.

If you will not arrive on your scheduled date of arrival, you must notify us by 9:00 am on the day after your scheduled arrival date or your reservation will be cancelled and all of your deposit will be forfeited; you will also be responsible for the full amount of your entire reservation.

A minimum night stay applies during certain periods. We are a non-smoking inn and we do not accept pets.

Online bookings are a "reservation request" and are not confirmed until you receive the final confirmation from us. If you decide to change the form of payment after your deposit is processed, you are responsible for a 4% fee on the deposit in order for us to credit it back to you and accept another form of payment for your deposit.

Online reservations made after 10:00 pm for a same day arrival are not accepted.

Travel Insurance: We offer optional trip insurance from Travel Guard, one of the leading travel insurance companies in the world. Travel Guard is a reliable, respected insurer that covers eleven million travelers annually. We urge you to consider purchasing a Travel Guard plan to cover your vacation investment. Travel Insurance will protect you against the common things we find preventing guests from arriving on their scheduled trip, such as sickness, weather, and job loss. The protection will continue for you while you are on your trip and offer primary medical insurance, baggage loss or delay, and an invaluable 24-hour customer service line for any emergency or concierge needs while you are traveling.

Group Payment and Cancellation Policy: For groups (booking 5 or more rooms) a 100% deposit is required within 45 days of arrival for up to 8 rooms and 60 days for 9 or more rooms. Cancellations after that time, regardless of season, are subject to a 50% cancellation fee unless we are able to rebook the rooms. Deposits will be refunded upon regular scheduled date of departure.